The #1 Aluminum Gangways
SafeRack is committed to aluminum gangway workplace safety. This is why we manufacture durable and long-lasting safety products including:
Barge gangways that can be fixed to a static structure like a complex platform system or to a mobile platform to allow easy operation and storage.
Ship's brows that can be stand-alone and are put into place when necessary, and then picked up and stored on the dock or vessel when not needed
Barge bridges to allow for safe travel between barges
Custom marine ramps for safe access to and from barges and ships.
With SafeRack's aluminum gangway by MarinaStep, you get your choice of power options to raise and lower your fixed gangways. Choose from:
Manually with counter-balanced springs
Manually with a hand-winch
Electric winch
Pneumatic cylinders
Pneumatic winch
Pneumatic over hydraulics
With a long history of building gangways, our patented brows and ramps are custom designed by our engineering staff to meet your application needs and built for durable and long-lasting performance in harsh marine conditions.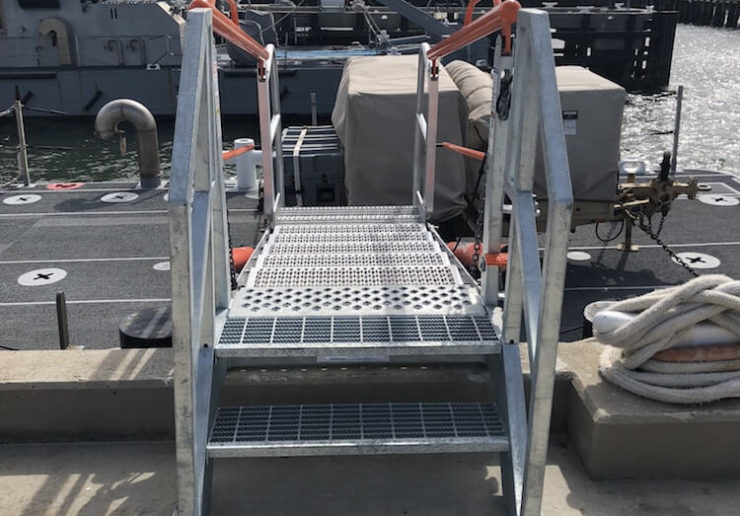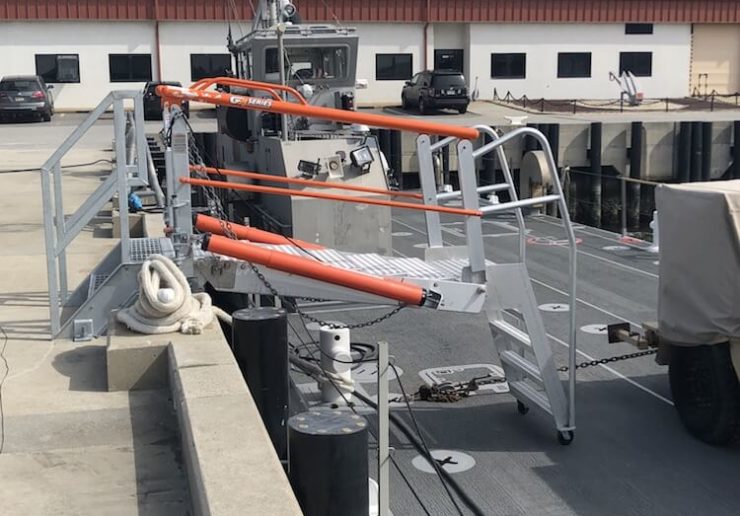 The Ultimate Aluminum Dock and Ship Gangways
Dock gangways (also known as a ship brow or accommodation ladder) are the last thing an operator comes into contact with before stepping onto a vessel and the first thing they come into contact with when going back to shore, so they need to be rugged and dependable, but most importantly, they need to be safe. SafeRack's aluminum gangways for barge access and ship access deliver precisely that. Our advanced, corrosion-resistant aluminum marine gangways are designed for OHSA-compliant worker safety, durability and reliability in marine environments and are built-to-order to your required length and specifications.
Built to Last
Constructed of durable marine-grade aluminum or galvanized or stainless steel, our vessel gangways are available in sizes up to 50' in length and 5' in width. Special-purpose gangways exceeding those measurements can also be built. Whatever your need, SafeRack's MarinaStep personnel can engineer the perfect product for your unique needs.

Self-Adjusting Stairs (SAS-Series) Marine Gangways
Available in lengths from 5 to 24 feet, the MarinaStep Self-Adjusting Stair Gangway (SAS) marine gangway is a perfect solution to reach both short and intermediate distances, providing a slip-resistant and level step for users along the entire length of the gangway.

Stage (SG-Series) Marine Gangways
Our SG series aluminum gangways for barge and ship access use a rugged U-body construction to provide a live load capacity of 750 pounds and can be custom constructed to accommodate even higher load capacities.

Truss (TG-Series) Marine Gangways
Our rugged U-body construction provides a standard live load capacity of 750 pounds and can be custom constructed to accommodate even higher load capacities. Additionally, you can choose from four different walk surfaces to improve your footing when operating at steeper angles.